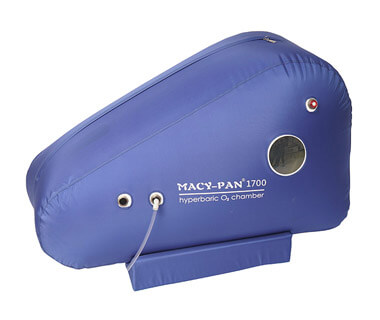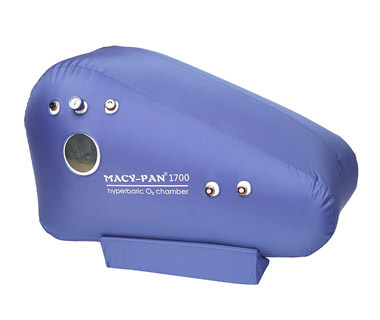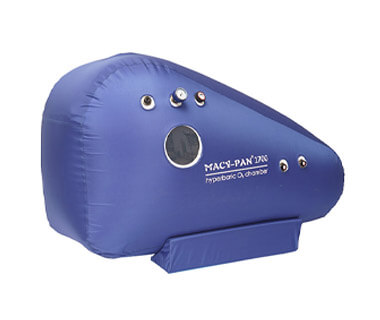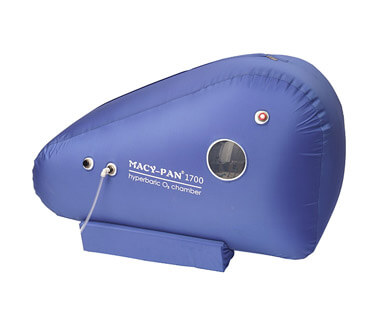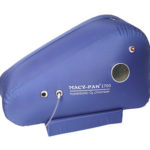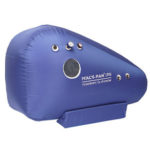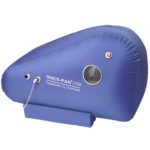 ST1700 Sitting Type Portable Hyperbaric Oxygen Chamber
MACY-PAN es el mejor fabricante de cámaras hiperbáricas en China con 13 años de experiencia. Trabajamos bajo la norma ISO9001, ISO13485, y todos los modelos de cámaras hiperbáricas tienen el certificado CE.
2 sellos de cierre para facilitar la entrada.
Fácil de manejar sin ayuda.
Modelo más popular para el manejo en el hogar.
Válvula de emergencia para despresurizar rápidamente en caso de emergencia.
 Colchón con memory form y funda de algodón/bambú antibacteriana.

Entrega logística (estimada): 4-7 días
La oxigenoterapia hiperbárica consiste en respirar oxígeno puro en una sala o tubo presurizado. La oxigenoterapia hiperbárica es un tratamiento bien establecido para la enfermedad de descompresión, enfermedad del buzo. Otras afecciones que se tratan con la oxigenoterapia hiperbárica son las infecciones graves, las burbujas de aire en los vasos sanguíneos y las heridas que no cicatrizan como consecuencia de la diabetes o las lesiones por radiación.
En una cámara de oxigenoterapia hiperbárica, la presión del aire es tres veces mayor que la presión del aire normal. En estas condiciones, los pulmones pueden recoger más oxígeno del que sería posible respirando oxígeno puro a una presión de aire normal.
La sangre transporta este oxígeno por todo el cuerpo. Esto ayuda a combatir las bacterias y a estimular la liberación de sustancias denominadas factores de crecimiento y células madre, que favorecen la curación.
Los tejidos del cuerpo necesitan un suministro adecuado de oxígeno para funcionar. Cuando los tejidos se lesionan, necesitan aún más oxígeno para sobrevivir. La oxigenoterapia hiperbárica aumenta la cantidad de oxígeno que puede transportar la sangre. El aumento de oxígeno en la sangre restablece temporalmente los niveles normales de gases en la sangre y la función de los tejidos para favorecer la curación y combatir las infecciones.
Cámara de Oxígeno Hiperbárico Sentada
La cámara de oxígeno hiperbárica sentada es un equipo médico especial para la oxigenoterapia hiperbárica. Según el medio presurizado, se divide en dos tipos: cabina presurizada de aire y cabina presurizada de oxígeno puro. La cámara de oxígeno hiperbárica tiene una amplia gama de aplicaciones. Se utiliza principalmente para el tratamiento de infecciones anaeróbicas, intoxicación por CO, embolia gaseosa, enfermedad por descompresión, encefalopatía hipóxica isquémica, traumatismos cerebrales, enfermedades cerebrovasculares.
Suele constar de una cabina, un sistema de suministro y escape (de oxígeno), un sistema de aire acondicionado y un sistema de control.
El medio presurizado es aire u oxígeno médico. La presión máxima de trabajo de la presurización de aire no es superior a 0,3MPa, y la presión máxima de trabajo de la presurización de oxígeno no es superior a 0,2MPa.
La presurización de aire se divide en una cámara de oxígeno individual y una cámara de oxígeno para varias personas según el número de tratamientos en la cabina.
El número de personas que entran en la cabina de presurización de oxígeno es de 1 persona, que se suele dividir en una cabina de oxígeno médica para adultos y una cabina de oxígeno médica para niños (incluido un recién nacido).

Ámbito de Aplicación
El oxígeno hiperbárico es adecuado para las siguientes enfermedades: intoxicaciones por gas, sulfuro de hidrógeno, biogás y otros gases nocivos, trombosis cerebral, hemorragia cerebral, traumatismos cerebrales, neuritis, vasculitis, gangrena diabética, úlceras de difícil curación, mal desarrollo fetal, asfixia neonatal, embolia aérea aguda, mal de descompresión, mal de altura, sordera repentina, síndrome de Meniere, vértigo. En comparación con la inhalación ordinaria de oxígeno, el oxígeno hiperbárico tiene mayor intensidad y mejor efecto. Puede utilizar directamente la cantidad de oxígeno para resolver el problema de la hipoxia. El oxígeno hiperbárico también tiene efectos antibacterianos y otros.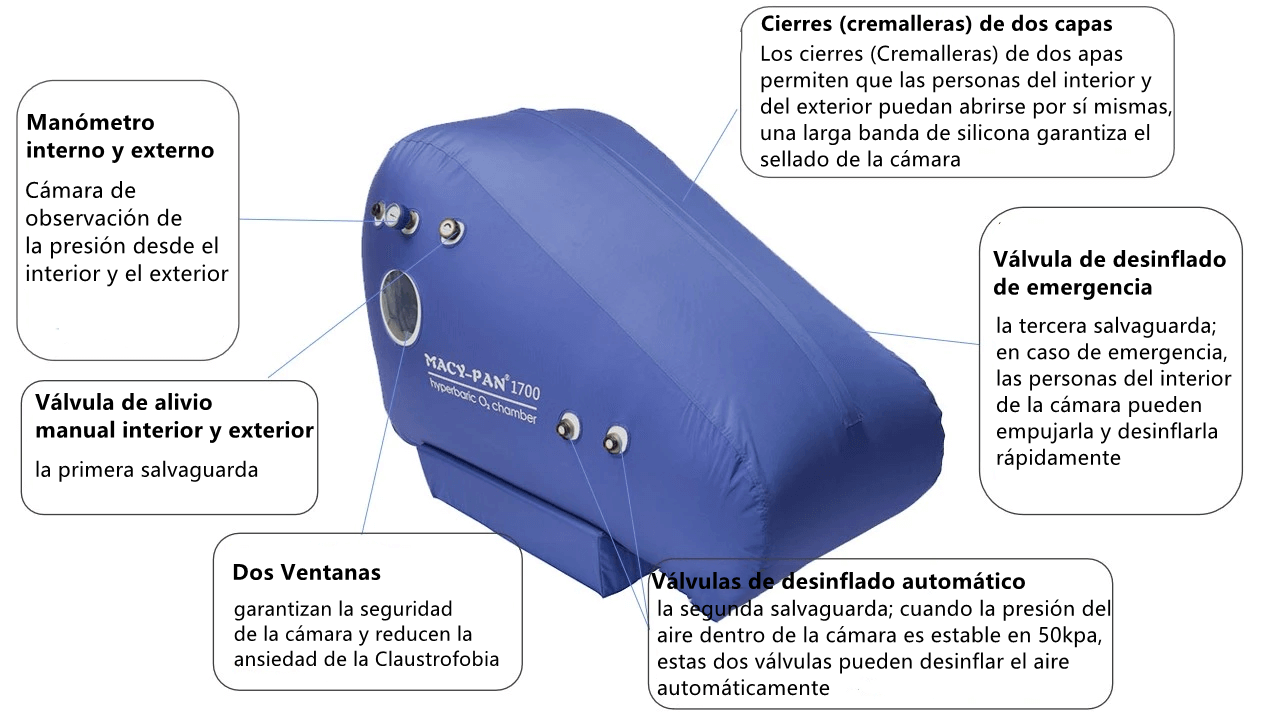 Characteristics of the portable hyperbaric oxygen chamber
1.3 ATA (4.4psi) de presión de funcionamiento.
2 cierres decremalleras para facilitar la entrada.
2 grandes ventanas de visualización transparentes para evitar la claustrofobia.
 Cubierta de protección de la cámara (variedad de colores disponibles).
Modelo popular para el manejo en el hogar.
Válvula de emergencia para despresurizar rápidamente en caso de emergencia.
 Fácil de manejar sin ayuda.
Suministra un 95% de oxígeno a presión a través de una máscara facial (opcional).
Manómetro interno que permite observar la presión mientras se está dentro de la cámara.
 Marco metálico interno para mantener la forma cuando se desinfla.
Colchón con memoria y funda de algodón/bambú antibacteriano.
 Compresor de aire sin aceite con 6 filtros de carbón.
Cápsula de la Cámara
Presión
1.3ATA(4psi)
Material
TPU
Tamaño
Longitud: 170cm(67pulg)
Altura: 110cm(43pulg)
Ancho: 70cm(28pulg)
Peso
13kg
Compresor de Aire
Tamaño
39×24×26cm(16×10×11″)
Tipo
Tipo silencioso y libre de aceite. Dos filtros de carbón activado de súper adsorción en la entrada y salida de aire.
Concentrador de Oxígeno
Tamaño
35×32×57cm(14×13×23″)
Tasa de Flujo
 5Liter/min(10L/min opcional)
Descripción
Alta tecnología del tamiz molecular PSA. Producción continua de oxígeno.
How will the HBOT treatment feel?
The chamber will be filled with compressed air. Once the chamber has expanded to its filled size, it will start to pressurize. While the chamber is pressurizing, your ears will feel the change in pressure inside the chamber. Otherwise, it should be unnoticeable. To equalize the pressure and avoid the feeling of fullness in your ears, you will need to clear your ears by chewing (gum or food), swallowing, yawning. During the pressurization of the chamber, your mouth may become dry. Once the chamber is fully pressurized, your salivation will return to normal. Additionally, the chamber may become slightly warm while it is pressurizing. Once it is to full pressure, the relief valves will begin to pull the warmer air out of the chamber. Then you can sleep, meditate, read, watch the movie, listen to music, etc.
How long is the treatment?
Treatment times are usually 1-2 hours per session, 5-7 times per week.
Is Hyperbarics good for the Elderly?
Most definitely. Hyperbarics is great for those in their later years. Hyperbarics provides an immeasurable boost that counteracts the signs of aging. In fact, new research indicates that hyperbaric oxygenation slows Apoptosis (cell death).
Is Hyperbarics good for Children?
Yes, hyperbaric yields wonderful results with children. In fact, research with children suffering from brain injuries and genetic disorders shows positive results and great promise. We recommend that children under the age of 16 need to be accompanied by an adult inside the chamber.
How safe is the Portable Hyperbaric Oxygen Chamber?
Pure oxygen under pressure is extremely flammable. Monoplace hard chambers use pure oxygen under pressure, so safety precautions must be taken when using these chambers. While our chamber uses pressurized room air with an oxygen concentrator. Hence it is safe and not flammable. However, the chamber should not be exposed to any naked flame, cigarette or the like.
Are there any side effects?
The most common side effect is a discomfort to the ears caused by pressure changes. To minimize the risk, patients learn to promote the adequate clearing of your ears during pressurization. Some patients may feel tired and dizzy after using a hyperbaric chamber for the first time. It`s a good signal as Hyperbaric Oxygen Therapy will speeds up the metabolism of our body, just like people feel tired after a long-running. They are usually good signs of indicating detoxification.
How can I learn about the HBOT?
The most comprehensive book about HBOT is The Oxygen Revolution by Paul Harch, M.D. This book is geared toward consumers who would like to learn more about how HBOT works and what conditions it treats. The book explores the science behind HBOT, as well as case histories of patients who have benefited from HBOT.
What about the delivery?
We can offer the door to door services by air or by the sea just depend on your actual request. Such as DHL, UPS, TNT, FEDEX, by air and the sea transportations.
What's the payment method?
T/T, Western Union, Money Gram, Escrow, Paypal, etc.
What's the delivery time?
4-7 days.
Contact Us
We will replay within 24 hours
Address
Bldg 15, No.889 Guinan Road, Songjiang District, Shanghai, China 201617
Call Us
+86 180 1702 1667
Say Hello
xuyun@macy-pan.com
sales@macy-pan.com