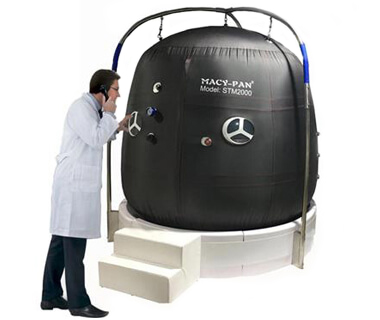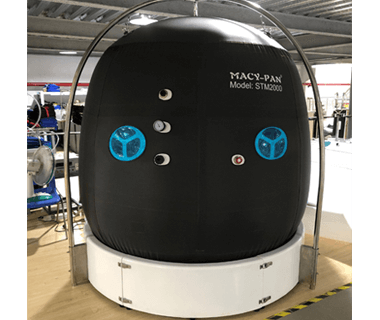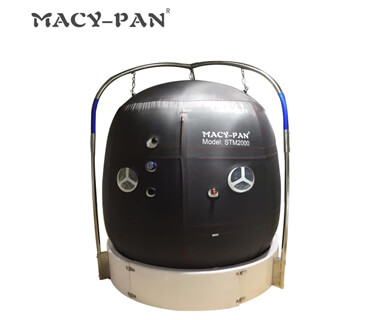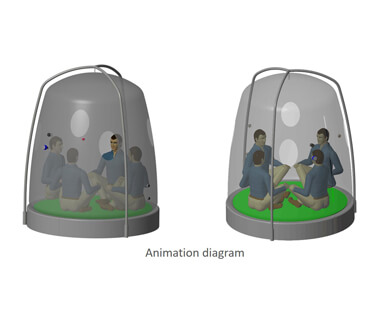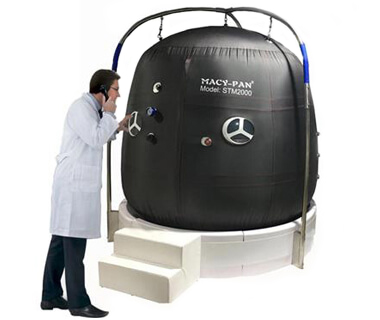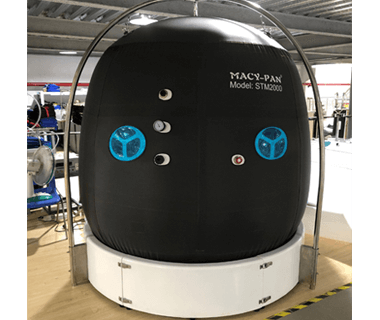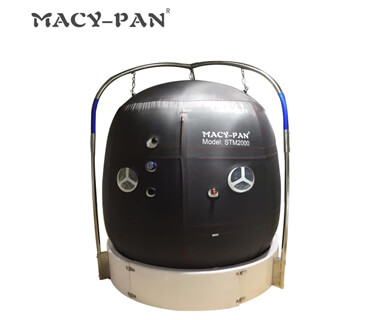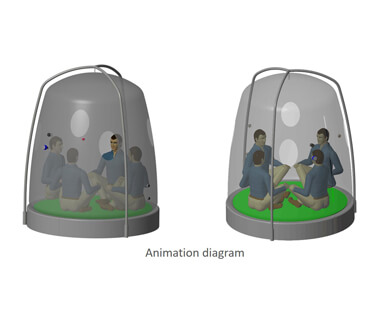 STM2000 Multiplace Hyperbaric Oxygen Chamber
MACY-PAN is a top hyperbaric chamber manufacturer in china with 13-year experience. We work under ISO9001, ISO13485, and all models of chambers are with CE Certificate.
Slide door entry for ease of use.
1.3 ATA (7 psi) operating pressure.
Easy installation and operation.
The Control system combines compressor, oxygen concentrator, and cooling unit.
Delivers 95% oxygen under pressure via face mask (optional).

Logistics delivery (estimated): 4-7 days
How Does Hyperbaric Oxygen Work?
A pressurized environment allows a greater amount of gas (in this case oxygen) to be dissolved into a liquid (in this case plasma). This is known as Henry's Law of Physics. For instance, when a carbonated beverage is canned at the factory, a great amount of pressure is applied so that more carbon dioxide can be dissolved into the beverage, which causes carbonation. When the beverage is opened, the pressure is released, and the amount of carbonation decreases over time resulting in a "flat" beverage.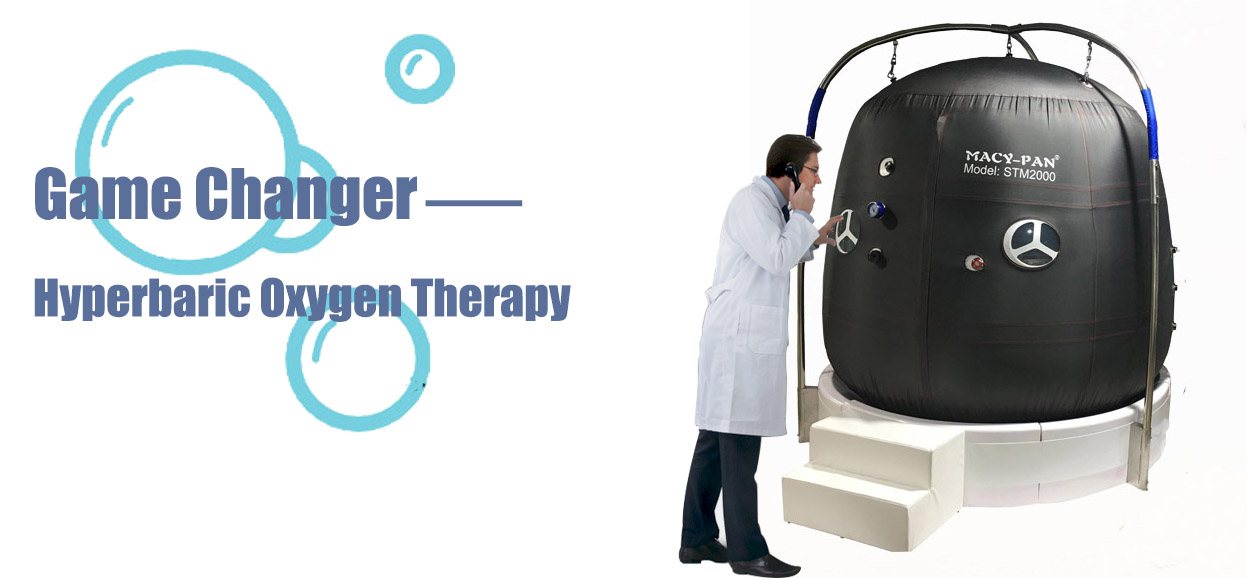 It is this same law that applies to hyperbaric therapy. Greater amounts of oxygen are absorbed into the plasma, synovial fluid, and cerebral fluid when the body is pressurized using a hyperbaric chamber. In addition to the greater absorption, the oxygen is also allowed to reach areas in the body that are difficult to reach without the increased pressure.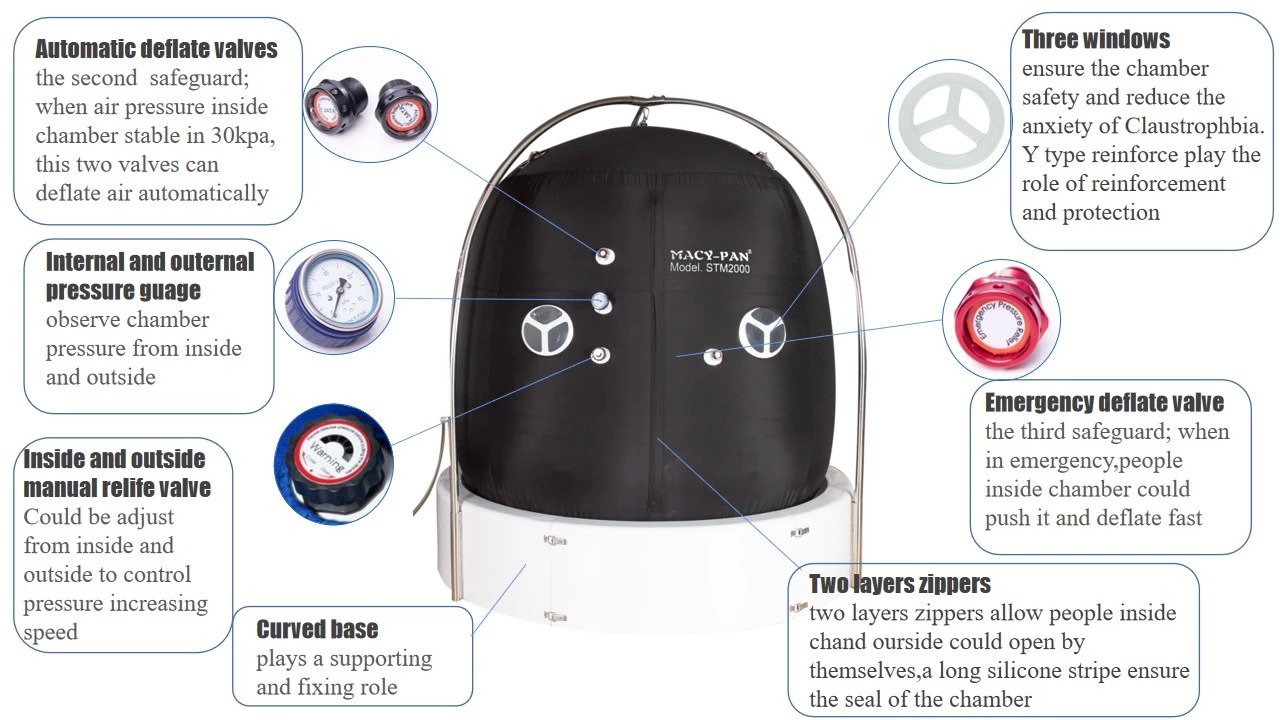 Chamber safety system:
1. 3 transparent windows. External people can observe internal users situation at any time. That make chamber light enough in case of Claustrophobia.
2. Emergency deflate valve and Emergency call device. Emergency deflate valves realize release pressure in a very short time then let users get out; Emergency call device friendly to users connect with external people if any abnormal.
3. Automatic deflate valves. When chamber pressure up to 4.5psi(1.3ATA), the automatic deflate valves will release air automatically, keep the chamber pressure stable in 4.5psi(1.3ATA). Simultaneous intake and exhaust to eliminate carbon dioxide.
4. Manual deflate valve. When chamber pressure in abnormal condition, adjust manual deflate valve to realize decrease pressure at any time. It can be controlled both from inside and outside,
5. Internal and External pressure gauge. To monitor the chamber pressure.
6. YKK zipper from Japan. Special two-layers zipper design keep safety. If operation machines power down, the seal stripe between two layer zippers will go sink, which easy for users to unzip zippers to get out.
7. TPU chamber material. TPU is eco-friendly materials pass the test by TUV authoritative testing center, which is totally no-toxic, strong pressure resistance.
8. Power failure alarm device and temperature alarm device. When operation machines power down, the alarm will be triggered; when the temperature in the system chassis exceeds the set temperature, it will automatically alarm.
Components
Specification
STM2000 Multiple Hyperbaric Oxygen Chamber
Chamber
Pressure:
1.3ATA
Weight:
60KG
Dimension:
Height:180cm Diameter:200cm
Capacity:
4 persons
Intercom phone :
YES
Operation System
Voltage:
110/220V,customized
Air Flow:
80L/Minute
Weight:
80kg
Power:
1200W
Size:
58(L)x42(W)x56(H)cm
Oxygen Concentrator
Voltage:
110V/220V,customized
Oxygen Flow:
10L/Minute
Power:
480W
Weight:
30kg
1. What Does Hyperbaric Oxygen Feel Like?
Hyperbaric oxygen therapy is virtually pain-free. Patients lie comfortably and restfully in the chamber. Patients can listen to music, watch television or movies, or nap if they wish. During certain stages of the treatment, patients may experience a sensation of fullness in their ears. This is similar to that which is felt while flying in an airplane or driving down a mountain as the eardrum responds to changes in pressure. As part of the introduction to treatment, patients are taught several easy methods to avoid ear discomfort.
2. Is Hyperbaric Oxygen Therapy Safe?
Hyperbaric oxygen therapy is prescribed by a physician and performed under supervision. Like all treatments and procedures, there are some risks associated with hyperbaric oxygen therapy. These risks are quite rare and will be discussed in detail prior to starting therapy. Overall, hyperbaric oxygen therapy is extremely safe. Hyperbaric Oxygen Therapy usually has limited or no after-or-side effects.
3. How long do treatments last?
Hyperbaric oxygen treatments typically last 90 to 120 minutes and are administered usually once each day, five days a week.
4. What should I expect when being treated?
During therapy, you will relax in a see-through atmosphere-controlled chamber. The internal dimensions of the chamber allow freedom of movement. You may listen to music, watch TV, take a nap or converse with the staff during therapy. Relaxation techniques may also be available.
5. How long do treatments last?
Hyperbaric oxygen treatments typically last 90 to 120 minutes and are administered usually once each day, five days a week.
Contact Us
We will replay within 24 hours
Address
Bldg 15, No.889 Guinan Road, Songjiang District, Shanghai, China 201617
Call Us
+86 180 1702 1667
Say Hello
xuyun@macy-pan.com
sales@macy-pan.com